Men have a higher tendency to store fat in the abdominal area compared to women. This excess fat is usually resistant to even stringent exercise and diets. Male abdomen liposuction in Manhattan is an ideal option to address moderate but stubborn fat deposits in the abdominal area. Expert NYC plastic surgeons perform minimally invasive male abdomen liposuction using the FDA-approved laser-assisted Smartlipo workstation. This laser liposuction procedure removes subcutaneous fat that lies beneath the skin and on top of the abdominal muscle wall, while simultaneously tightening the overlying skin to provide a tighter, flatter, and athletic-looking abdomen.
This laser lipolysis workstation combines three laser wavelengths (1440, 1064 and 1320 nm) with unique patented MultiPlex technology, allowing greater disruption of fat tissues along with outstanding tissue coagulation and skin tightening effects. Its intelligent systems, SmartSense™, ThermaView™ and ThermaGuide™, deliver laser energy in the right proportion to provide superior body contouring and skin tightening effects.
Unlike traditional surgery, Smartlipo male abdomen liposuction comes with advantages such as –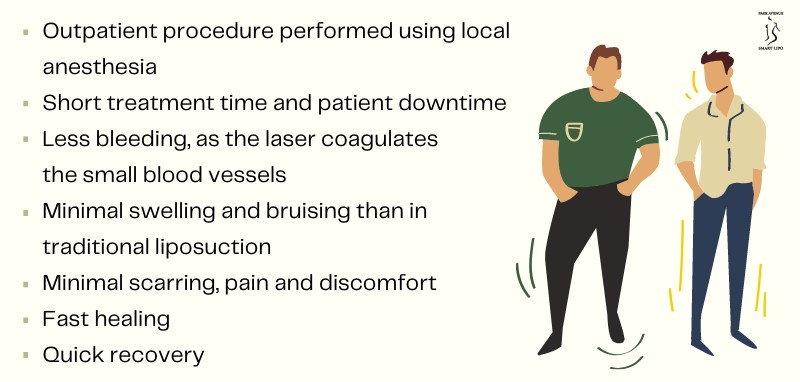 Good candidates for the procedure are those who are over 18 years of age, have localized fat deposits in the abdomen/tummy region, are in good general health without any underlying medical conditions, and close to their ideal body weight. It's also important that patients have realistic expectations about the outcome of the procedure. For optimal results, make sure you choose a plastic surgeon with extensive experience performing male abdomen liposuction using Smartlipo technology.