Enhance Your Self-Confidence with Laser Liposuction
To achieve an ideal body shape, a healthy diet and regular exercise are essential. However, despite rigorous workout regimens and strict diets, some people struggle to get rid of stubborn pockets of fat. In such cases, liposuction surgery in Manhattan may offer a solution.
At Park Avenue Smart Lipo™, our NYC plastic surgeons – Dr. Spero J Theodorou and Dr. Christopher T Chia are specialized in providing minimally invasive laser liposuction surgery using the revolutionary Smartlipo Triplex system. We are in fact, one of the first plastic surgery groups in New York City to introduce Smartlipo Triplex – the laser-assisted FDA-cleared triple-wavelength workstation. Our surgeons perform over 1000 procedures annually, and also train other physicians to perform Smartlipo liposuction.
Liposuction in Manhattan, NYC Using Smartlipo Triplex
Smartlipo laser liposuction procedure can be performed on various areas of the body, including the abdomen, thighs, buttocks, arms, and neck.
This laser workstation combines three powerful laser wavelengths (1064nm, 1320nm, 1440nm) to easily melt fat. The laser energy liquefies the fat for easy removal and also tightens the skin to provide great results. This device also features three intelligent delivery systems, namely SmartSense™, ThermaGuide™, and ThermaView™, that promote patient safety by preventing overtreatment.
To maintain the results after liposuction Surgery in NYC, it is important to follow a healthy diet and exercise program regularly to prevent the re-accumulation of fat in the treated areas. Compression garments may also be recommended after the procedure to help reduce swelling and promote healing.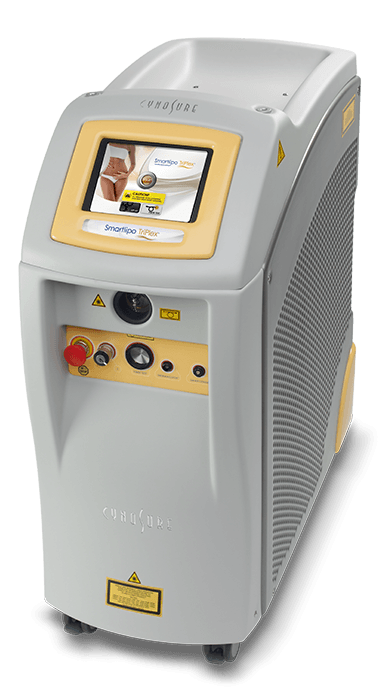 Benefits of Laser Liposuction in Manhattan
Unlike traditional liposuction, which requires general anesthesia and a longer recovery time, laser liposuction surgery comes with many advantages:
Can be performed under local anesthesia
Patient remains awake during the procedure
Minimally invasive procedure
Light bruising and minor swelling
Can return to work within a few days
Dedicated Services and Personalized Care
With extensive experience and high qualifications in body contouring, our team of plastic surgeons delivers personalized care and support throughout the surgical process, ensuring a smooth and successful recovery. They have expert knowledge of both male and female anatomy, and cater to the diverse needs of different age groups to effectively restore a youthful appearance.
If you're struggling to eliminate stubborn pockets of fat and looking for a minimally invasive solution, liposuction surgery in Manhattan using Smartlipo Triplex may be the right choice for you. Schedule a consultation with our experienced plastic surgeons and take the first step towards achieving your ideal body shape.
Contact us today at 1-888-869-2762 or send an email to info@parkavenuesmartlipo.com.
Is Smartlipo right for me?
The right candidates for Smartlipo laser liposuction are individuals who are in good health and seeking to eliminate persistent fat deposits to achieve a defined physique. It is important that candidates do not smoke and have realistic expectations regarding the outcome of the procedure.
How long do the results last?
The results of Smartlipo laser liposuction will be permanent and long lasting if you maintain a healthy lifestyle with proper diet and exercise.
How long does the procedure take?
On an average, the procedure will take 1.5- 2 hours, depending on the number of areas treated and the size of the areas. At Park Avenue Smart Lipo™, our plastic surgeons are trained and skilled in using this FDA-approved Smartlipo Triplex procedure and they perform over 1000 procedures annually.
Does liposuction surgery in Manhattan involve overnight stay?
No. The procedure is performed at Park Avenue Smart Lipo's outpatient surgical facility under local anesthesia and patients usually go home on the same day. Following your surgeon's post-op instructions is important for smoother, faster recovery.