Look Beautiful with Smartlipo Laser Liposuction in NYC
Liposuction enhances a woman's body contour by removing localized unwanted fat deposits that do not respond to strenuous diet and exercises. Today, an increasing number of women prefer to undergo laser liposuction procedure because it is fast, effective, safe and delivers the desired results. With minimally-invasive Smartlipo laser liposuction, women can achieve their body reshaping goals without surgery. Park Avenue Smart Lipo™, a leading plastic surgery practice in Manhattan, NYC provides customized Smartlipo laser liposuction for women in NYC.
Smartlipo can address stubborn fat in various areas such as the arms, breasts, abdomen, waist, flanks, thighs, ankles and calves. Our surgeons will assess your concerns and developed a personalized treatment plan to help you achieve your goals. With years of experience in using Smartlipo technology, they can provide optimal results. We are also Cynosure's accredited Smartlipo training center in Manhattan.
Smartlipo Laser Liposuction for Women – What's Involved
Smartlipo laser liposuction for women in NYC is a ground-breaking and minimally invasive procedure for the successful removal of surplus body fat.
The FDA approved Smartlipo Triplex laser workstation uses laser energy to dissolve fat and remove it from the body via a gentle suction process. The combination of three unique laser wavelengths – 1064 nm, 1320 nm and 1440 nm ensure that the targeted fat deposits are melted without affecting the surrounding tissues.
The procedure is simple – the device's small probe is directed at the fat afflicted areas and its triple-wavelength laser energy melts the stubborn fat.
A suction device is then used to extract the fat effortlessly from the body.
The laser coagulates blood vessels to minimize bleeding and optimally tightens lax skin.
The best candidates for Smartlipo laser liposuction are women who are not significantly overweight, but have accumulated fat deposits such as love handles, flabby upper arms, and excess neck or facial fat.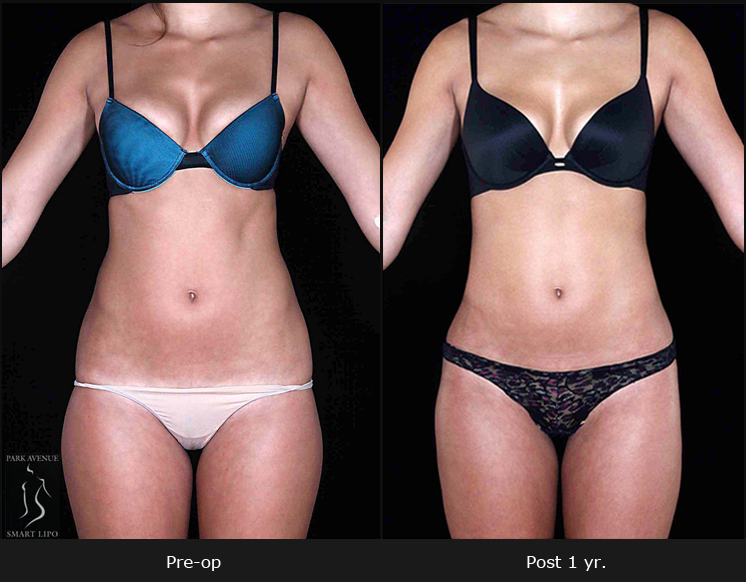 SmartLipo Love Handles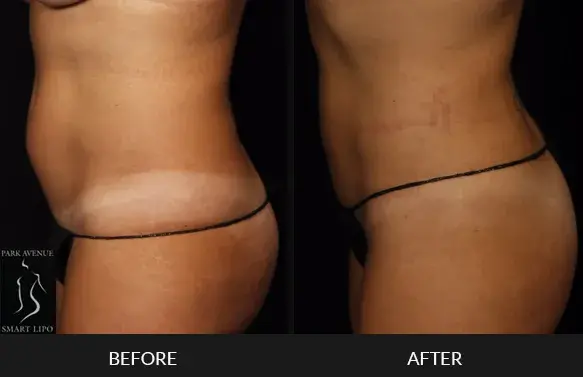 SmartLipo Abdomen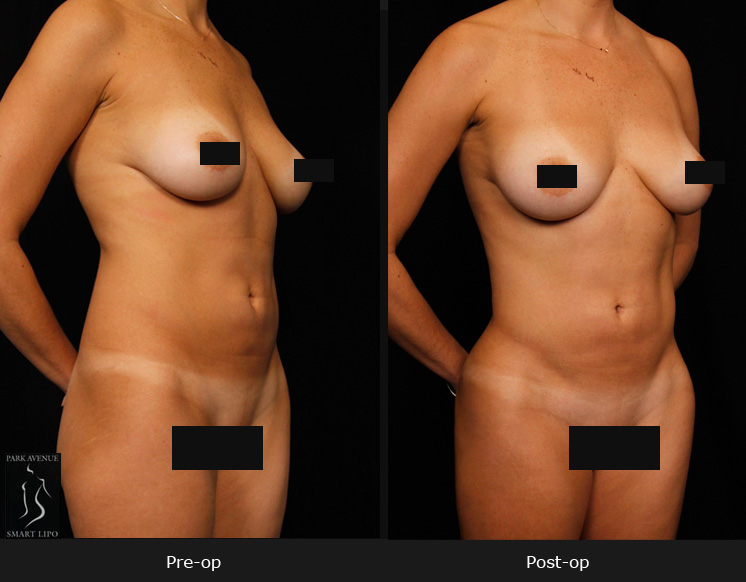 SmartLipo High Def Liposuction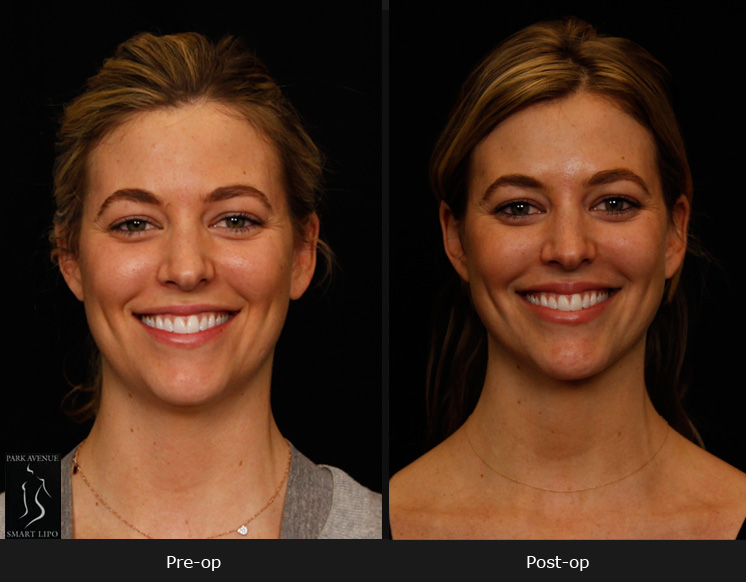 SmartLipo Neck Liposuction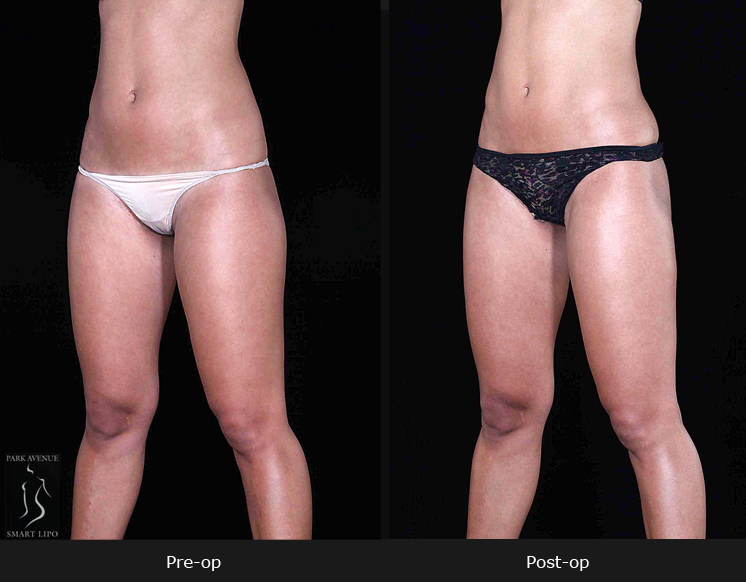 Leg and Thighs Liposuction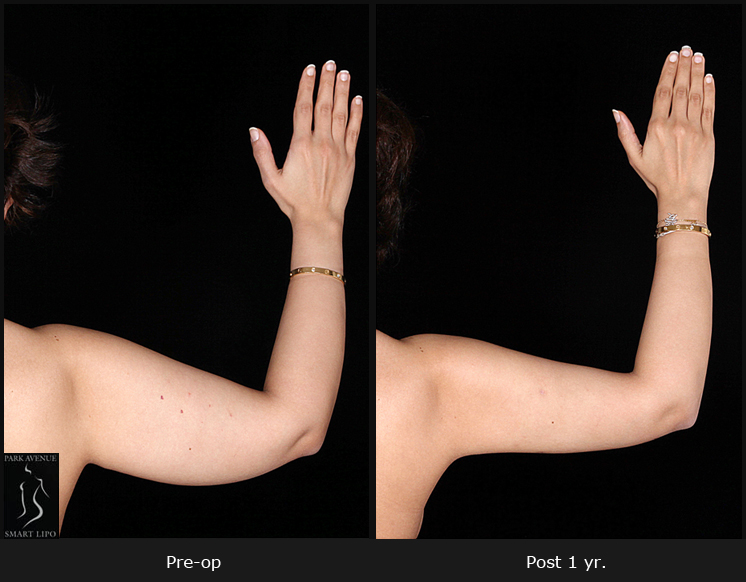 SmartLipo Arm Liposuction
SmartLipo Laser Liposuction for Women in Manhattan – Many Benefits
By customizing the wavelengths based on the treatment and patient type, Smartlipo Triplex offers:
Safe and effective body contouring: In addition to targeting unwanted fat precisely, Smartlipo offers effective skin tightening and tissue retraction through soft tissue coagulation.
Additional body sculpting capabilities: With its high-definition sculpting capabilities, Smartlipo Triplex can help you achieve the body contour you desire.
Many areas can be treated: Some of the most popular areas for liposuction for women are: abdomen, breasts, buttocks, love handles, hips, knees, thighs, arms, face, neck, and chin.
Completely safe: The procedure will take 1.5 to 2 hours, depending on the number of areas to be treated and the size of the areas. It is carried out under local anesthesia at our AAAASF-accredited plastic surgery practice in NYC. Its intelligent delivery systems SmartSense™ and ThermaGuide™ monitor the skin temperature and deliver safe levels of energy for the procedure.
Quick recovery and minimal complications: Our surgeons perform laser liposuction using local anesthesia. This allows our patients to achieve speedy recovery and return to work in just a few days' time.
End-to-end Personalized Care and Support
SmartLipo laser liposuction for women in Manhattan is a highly personalized procedure. Our surgeons closely evaluate patients' anatomical considerations and goals to deliver the best solution. Our staff is dedicated to providing individualized care and comprehensive support every step of the way, from the initial consultation to complete recovery.
We also offer fat transfer procedures for women. The procedure involves using your fat tissues extracted via liposuction to enhance another area of your body.
Schedule Your Consultation
To schedule an appointment for Smartlipo Laser Liposuction for women in New York City at Park Avenue Smart Lipo™ call 212-265-2724 or send an e-mail to info@parkavenuesmartlipo.com.