Excess fat can accumulate in various areas of the body due to factors such as heredity, aging, pregnancy, weight gain, hormonal changes, and stress. Smartlipo laser liposuction in NYC would be the best option to address this unwanted fat which tends to be unresponsive to conventional weight loss measures. While traditional liposuction in NYC involves surgery to remove unwanted fat deposits, advanced minimally invasive techniques such as Smartlipo use laser energy to liquefy the fat before it is removed using a small cannula.
The procedure is performed under local anesthesia using the FDA-approved Smartlipo Triplex workstation. The device features three laser wavelengths that are designed to provide effective fat removal as well as skin tightening benefits. The patient experiences less scarring, swelling, bleeding and bruising than in conventional liposuction treatment. The procedure comes with reduced downtime and short recovery.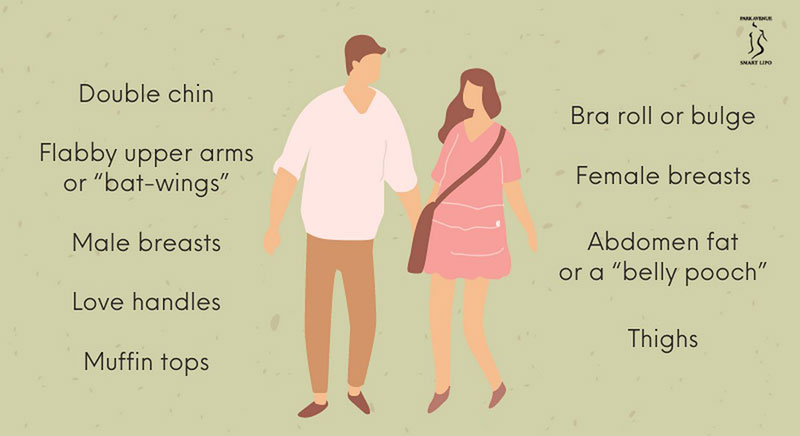 Laser liposuction works well for specific trouble spots such as –
Flabby upper arms or "bat-wings"

Arm liposuction help achieve attractive, shapely upper arms

Abdomen fat or a "belly pooch"

Female abdomen laser liposuction in NYC removes excess tummy fat

Bra roll or bulge

Liposuction in NYC is a great option to address the bra bulge

Double chin

Chin liposuction can correct a double chin

Female breasts

Liposuction breast reduction can address overly large breasts

Male breast

Gynecomastia treatment is a long-lasting solution to "man boobs"

Love handles

Liposuction can restore a natural and more attractive contour

Muffin tops

Liposuction can result in a shapely waist

Thighs

Liposuction can provide slimmer, shapelier thighs
A good candidate for liposuction is close to their ideal weight and has localized fat deposits that are resistant to diet and regular exercise. Considering Smartlipo laser liposuction in NYC? Choose an AAAASF-accredited plastic surgery center that offers the services of plastic surgeons who are experts in the procedure. An experienced liposuction surgeon will evaluate your goals and anatomical considerations, and provide customized treatment to help you achieve attractive outcomes.