Male Jaw Sculpting Treatment for a Chiseled Jaw line
Most men want a chiseled jawline but find that facial exercises cannot provide the desired results. Smartlipo-assisted male jaw sculpting in Manhattan is an ideal option that can help you achieve your goals – without going under the knife. The shape and appearance of the jawline can be negatively impacted by factors such as aging, weight gain, and genetics. Male jaw contouring contours the jowls, chin and jawline and creates a sculpted look.
A strong, well-defined jawline is associated with masculinity and can take years off your appearance. However, aging, weight gain and genetics can cause fat to accumulate around the chin and neck, and lead to jowls. Park Avenue Smart Lipo offers male jaw sculpting in Manhattan to address these concerns and help you achieve a defined, contoured jawline and the masculine profile you want. At our AAAASF-accredited plastic surgery facility, jaw sculpting for men is performed using the FDA-approved laser-assisted Smartlipo Triplex workstation. The procedure can:
Correct a weak or recessed chin
Improve definition of the neck and jawline
Reduce the appearance of a full or double chin
Improve jawline asymmetry
Our skilled plastic surgeons, Dr. Spero Theodorou and Dr. Christopher Chia, have extensive experience in performing Male Jaw Sculpting New York City using Smartlipo technology. Knowledgeable about the unique anatomy of the male face, our experts perform liposuction of the neck and jawline area to provide natural looking results.
Male Jaw Sculpting in NYC using Smartlipo Triplex
Cynosure's Smartlipo Triplex workstation comes with high definition body contouring capabilities. It blends the power of three unique laser wavelengths – 1440, 1064 and 1320 nm. MultiPlex technology allows these wavelengths to be blended or used sequentially for optimal fat removal and enhanced tissue tightening. These capabilities make Smartlipo the ideal option to address stubborn fat in areas of the face.
This FDA approved laser workstation also features intelligent delivery systems to provide reliable, controlled energy delivery to prevent overtreatment.
We offer male jaw sculpting in NYC as an outpatient procedure under local anesthesia, reducing the risk of post-operative side effects. Most male patients return home on the same day.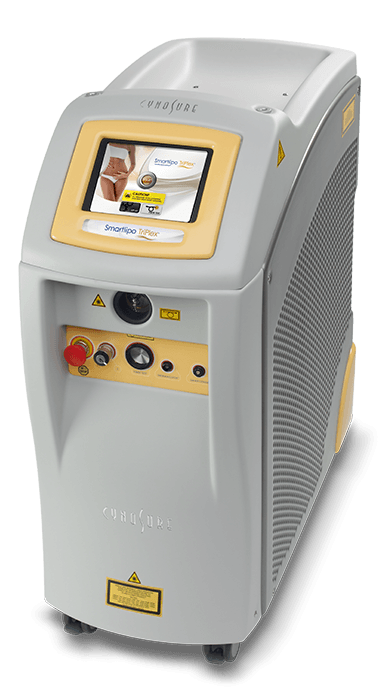 Highlights of Male Jaw Sculpting Treatment
Minimally-invasive procedure under local anesthesia
Effective fat removal and skin tightening
Minimal bleeding, bruising, pain, and scars
No severe complications or risks
Minimal bleeding and trauma to the tissues
Superior results along with short recovery time
Customized Solutions
You may be a good candidate for male jaw sculpting in Manhattan if you are have pockets of fat under the chin and jawline, or feels that your jawline structure is too small or weak. It's important to have skin that is healthy and has good elasticity. Candidates should have realistic expectations about the outcome of the procedure.
Our surgeons provide customized treatment to meet individual conditions and needs. This is crucial as each patient's anatomical features and considerations are different and require a unique approach. To deliver an optimal surgical experience and superior results, our plastic surgeons will work closely with you – right from the initial consultation stage through to complete recovery.
Post-procedure, our surgeons may recommend wearing an elastic compression garment around the jaw line area for a few weeks. For long-lasting results, follow a healthy lifestyle and stick to our surgeon's advice.
We also offer hi def body sculpting procedures to create chiseled facial contours, enhance the underlying musculature and help you achieve a sleek, athletic appearance.
Schedule Your Consultation
We are a Cynosure-certified training center and train other plastic surgeons to perform Smartlipo Triplex laser liposuction. Our surgeons perform more than 1000 procedures every year.
To schedule a consultation for male jaw sculpting in New York City at Park Avenue Smart Lipo™, dial 212-265-2724 today or send an email to info@parkavenuesmartlipo.com.