A leading global provider of innovative medical technologies, InMode has announced Eva Longoria, an award-winning actress, director, and producer, as their new global brand ambassador. Longoria is celebrated for her much-loved role in Desperate Housewives and critically acclaimed for her directorial roles in her documentary La Guerra Civil and the upcoming highly expected feature film Flamin' Hot. She continues to be one of the most significant pioneers in entertainment for women and the Latinx community. She first became famous on television in the soap opera The Young and the Restless.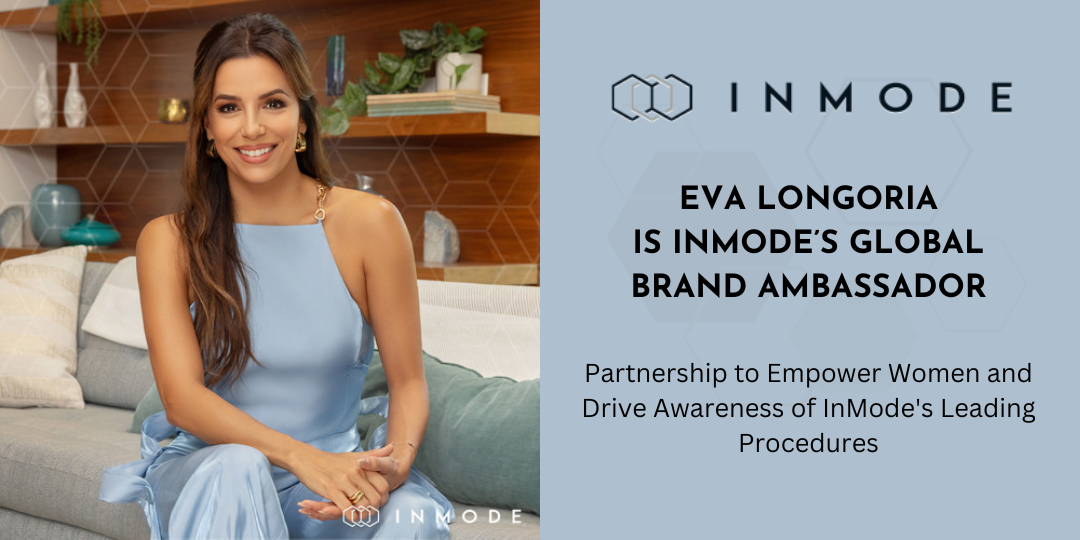 The campaign with InMode aims to highlight this celebrity's journey and how the InMode treatments are providing solutions to make her feel her personal best. Longoria began using InMode technologies to help achieve natural, sculpted results and to correct the physical changes she noted after giving birth to her son. She continues using InMode's Morpheus8 Body and EvolveX Transform for skin remodeling, toning, and maintenance. Longoria has appeared in several advertising campaigns, and she holds modeling contracts with L'Oréal and New York & Co, among others.
Longoria said, "I am looking forward to telling my story around my post-delivery body as InMode's Global Ambassador. I live an active lifestyle and take the absolute best care of my body; however, following the birth of my son, I noticed physical changes that I couldn't address through my regular routine and diet. I turned to InMode's EvolveX Transform and Morpheus8 Body treatments to address those concerns, and I love the results."
Morpheus8 Body is the first and only FDA-cleared technology to provide deep 8mm subdermal adipose tissue remodeling. Ideal to treat large body areas, it can be programmed to quickly treat large tissue areas at the deepest levels of RF available.
EvolveX Transform is a hands-free total body tissue, fat, and muscle transforming treatment. It can treat multiple areas of the body simultaneously and a variety of customizable aesthetic treatments can be provided with one device.
"InMode is thrilled to partner with Eva Longoria. Eva's personal and genuine experience with InMode technologies makes her the perfect person to share her story worldwide," said Shakil Lakhani, President of InMode North America.
About Park Avenue Smart Lipo™
Park Avenue Smart Lipo™ is a leading plastic surgery practice in Manhattan, New York City, specializing in minimally-invasive Smartlipo laser liposuction procedures for both men and women. With their experience in performing over one thousand liposuction procedures, our NYC plastic surgeons provide effective treatment to help you achieve an attractive body contour easily and with minimal downtime. Find more information at https://www.parkavenuesmartlipo.com.