Park Avenue Smart Lipo™ Receives the 2014 Best of Manhattan Award
A Prestigious Award that Recognizes Outstanding Quality
The Manhattan Award Program has honored Park Avenue Smart Lipo™ with the 2014 Best of Manhattan Award in the Hospitals & Medical Centers category. This prestigious award acknowledges and honors local companies that enhance the positive image of small business via service to their customers and community.
Park Avenue Smart Lipo™ in New York City was chosen based on information gathered by the award program internally and from data provided by third parties. The award also acknowledged the excellent quality of service provided by the practice. Park Avenue Smart Lipo™ has shown the ability to use best practices and implement programs that generate competitive advantages and long-term value.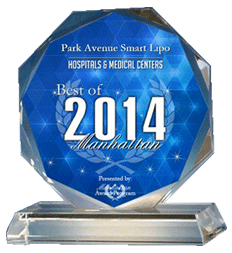 Dedicated to Providing the Best Service, Patient Care, Safety and Comfort
At Park Avenue Smart Lipo™, only the latest in body contouring solutions for men and women are offered bringing about optimal results. Dr. Spero Theodorou and Dr. Christopher T. Chia provide outstanding surgical procedures and are devoted to ensuring utmost patient satisfaction. The plastic surgeons and support staff of Park Avenue Smart Lipo™, ensure quality patient care, safety and comfort so that patients have a pleasant and rewarding experience.