In most women, the buttock area tends to accumulate fat deposits due to several factors – hormonal imbalance, aging, pregnancy and slow metabolism. Buttocks liposuction in Manhattan, NYC is a great way to get rid of excess fat in the butt area and achieve a trim, attractive shape. Expert surgeons perform this procedure using the FDA-approved Smartlipo Triplex workstation, which uses laser energy to remove excess fat, tighten the skin, and reshape the area.
Those considering liposuction on the buttocks first need to make sure that they are an ideal candidate for the procedure. The right candidates for this liposuction procedure are typically those who have an out-of-proportion buttock area with firm, elastic skin. They are healthy, with no underlying medical conditions, psychologically stable, and have realistic expectations about the outcome.  The procedure is not recommended for women who are pregnant or breastfeeding, take blood-thinners (anti-coagulants), smoke, have any severe liver, kidney or cardiac diseases, or have an infection in the area that is to be treated.
For the right candidates, the next step is proper preparation for the treatment.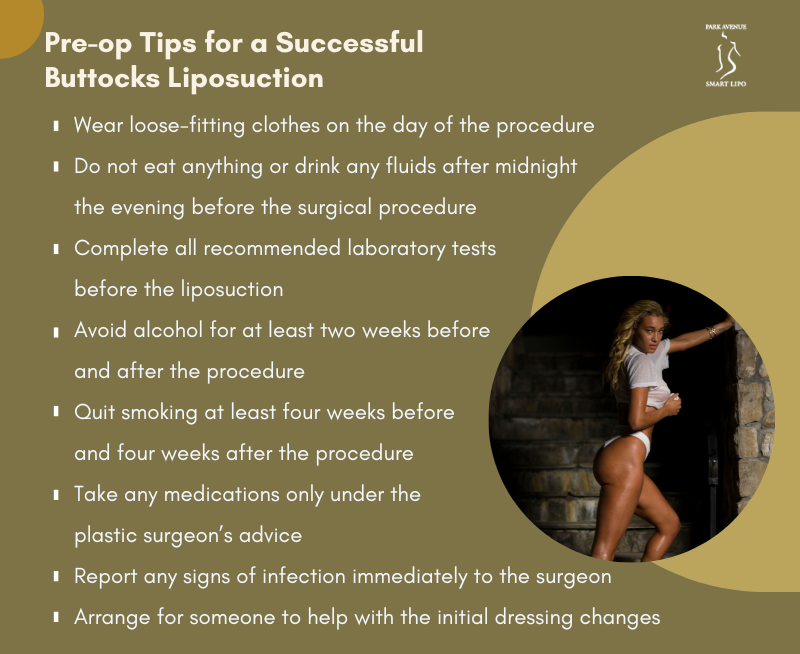 The Smartlipo workstation blends the power of three laser wavelengths – 1064 nm, 1320 nm and 1440 nm – to liquefy fat so that it can be easily removed. The intelligent delivery systems of the device – ThermaGuide, SmartSense and ThermaView – help regulate energy delivery and prevent overtreatment. By allowing the plastic surgeon to precisely target the treatment site, this technology minimizes damage to the surrounding tissues. Compared to traditional liposuction, Smartlipo laser liposuction offers diverse benefits – superior skin-tightening effects, short treatment time and downtime, reduced chances of complications, minimal swelling, bleeding and bruising, fast and smooth recovery, and use of local anesthesia. Women considering buttocks laser liposuction in Manhattan must choose a reliable AAAASF-accredited practice that provides the services of plastic surgeons who are skilled in performing Smartlipo laser liposuction.