Excess fat under the lower jaw or a double chin is a distressing cosmetic concern for many men and women. Though exercise and diet can help reduce the fat to some extent, these measures often fail to provide the desired results. Neck liposuction in Manhattan is an ideal option to consider when these natural methods don't work. The main causes of submental fat and loose sagging skin are – genetics, age, and weight gain. Performed by a skilled liposuction surgeon, the procedure can reshape the neck and provide a better defined, attractive neck and jaw line.
Leading plastic surgeons use the minimally-invasive laser-assisted Smartlipo Triplex workstation to perform neck liposuction The procedure is performed on an outpatient basis using local anesthesia. It removes unwanted fat safely and effectively, and also provides skin tightening benefits.
Benefits of Neck Laser Liposuction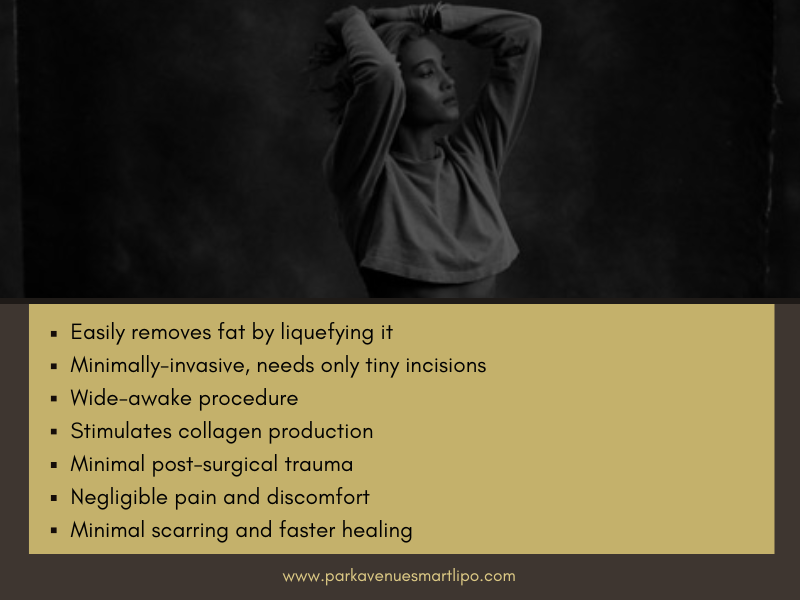 The unique intelligent delivery systems of the Smartlipo system help the surgeon to monitor skin temperature and regulate the flow of energy, minimizing risks of overtreatment. By precisely targeting unwanted fat, this laser workstation leaves the surrounding tissues unaffected.
After the procedure, most patients return home the same day, and get back to work within 1 week and to full activity after about 2 weeks. Make sure to follow your surgeon's post-op instructions diligently.
A reliable surgeon will listen carefully to your concerns and ensure that treatment is customized to meet your aesthetic goals. Expert plastic surgeons in Manhattan may also recommend a facelift/neck lift along with liposuction to treat severe skin laxity.