Many women are worried over issues related to their appearance. Among those, many are facing problems related to the thighs, in other words, problems related to excess fat on the thighs. Hormonal imbalance, improper diet, heredity, pregnancy and lack of activity are the main reasons for saggy or fatty thighs. Inner thigh liposuction in NYC is a procedure which reshapes the thigh and restores self-confidence in women.
Thigh liposuction is a procedure which removes excessive or unwanted fat from the thigh area. This procedure gives a perfect contour to the thighs by sucking out unwanted fat. Smartlipo liposuction is a very popular liposuction procedure today. It uses laser fibers to liquefy the fat and makes it easy to remove fat from the body. This process not only removes the fat but also tightens the skin. The added advantage of this procedure is that the laser stimulates the production of collagen in the skin of that part. Smartlipo liposuction can be performed not only on the thighs but also in any part of the body where fat accumulates. The incision is smaller in Smartlipo liposuction compared to traditional liposuction. As a result, it has high speed for recovery. Some tips for speedy recovery from inner thigh liposuction are given below:
Recovery Tips
The recovery period after Smartlipo thigh liposuction is based on the amount of fat removed from the body. However, there are certain tips for speedy recovery:
Follow a healthy diet
Strictly avoid alcohol and smoking
Use proper medicines
Use compression clothes as per the surgeon's advice
Try to avoid herbal supplements
Try to keep yourself busy with reading books, watching movies and so on
Drink a lot of water
Visit your physician for follow-up
Proper examination on the procedure site and visit or contact your doctor, if you notice any unusual swelling, pain or redness.
Back to Work
After the procedure and post-surgery care, you can return to your workplace after 2-3 days. However, complete recovery depends on the amount of fat removed from the body. If the procedure extended more than normal, then it is better to take a week off from work with the advice from your doctor. At the same time, the patient can do small exercises while the more complex workouts can be done only with the advice of your physician after 4-6 weeks. Altogether, it will take 6-8 weeks for complete recovery. The patient may be asked to wear a compression garment for at least two weeks after the surgery.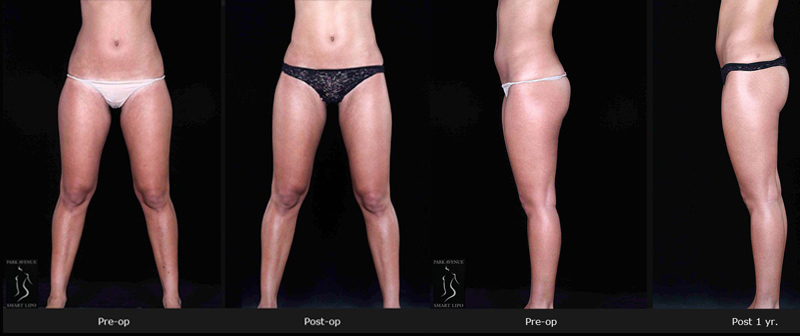 View Before & after photos of thigh liposuction procedure, from real patients.
Smartlipo liposuction on the thighs is a simple procedure, patients can return to home on the day of the surgery. Plastic surgeons performing inner thigh liposuction at select plastic surgery facilities in NYC are experienced and guide their patients for the best results.