Are you eating well and exercising, still finding it difficult to lose stubborn stomach fat? With Smartlipo, you can treat those trouble spots and lose enough fat to see a noticeable improvement in your overall figure. In comparison to standard liposuction, Smartlipo laser liposuction in NYC is a less intrusive procedure that produces more sophisticated outcomes. It is also referred to as laser lipo. The hips, abdomen, arms, legs, neck, and other body regions can all be treated with this body sculpting procedure. This procedure not only removes excess fat but also tightens and smoothens the surrounding skin, giving the appearance of younger-looking skin.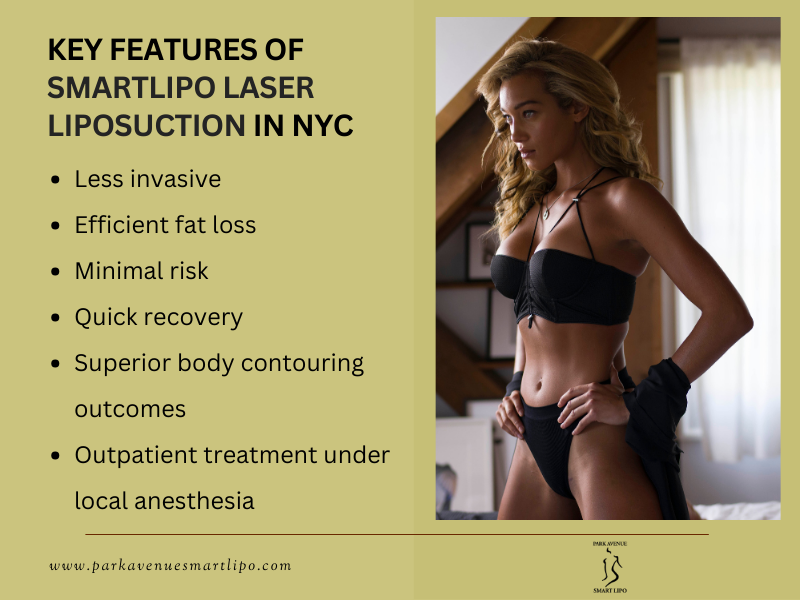 Maintaining a trim, well-contoured body can enhance your social life and professional opportunities in addition to increasing your self-confidence and self-esteem. Earlier, the only option was traditional liposuction; however, with recent developments in the field, minimally-invasive Smartlipo has become one of the most popular procedures. Get Smartlipo laser liposuction if you are concerned about the recovery period and potential adverse effects of traditional liposuction. In order to liquefy the fat before extraction, the Smartlipo Triplex workstation uses three different laser wavelengths: 1064 nm, 1320 nm, and 1440 nm. It is useful for treating both small and big body areas, including the knees, thighs, abdomen, love handles, saddlebags, and hips.
Get a flat abdomen with abdominal liposuction in NYC.
Removing Belly Fat with Smartlipo Laser Liposuction
There are two types of belly fat: visceral fat and external fat. Visceral fat, which is located beneath the muscle, responds well to diet and exercise, whereas subcutaneous fat, which is located between the skin and muscle, responds very well to Smartlipo. Expert plastic surgeons advise that treating both these types of fat will enable patients to achieve remarkable outcomes. When done correctly, Smartlipo can provide a tighter, smoother look, and patients who have good skin quality can expect optimal outcomes.
This treatment is also a good option for women who want to get rid of their belly fat post-pregnancy. A little extra stomach fat, somewhat or totally firm skin, and well-defined abdominal muscles are the perfect combination for a Smartlipo candidate. While Smartlipo can tighten the skin, if your skin is too loose, or you have a lot of additional fat, or your abdominal muscles are damaged, you may not see a noticeable enough difference. Patients who want to remove a significant quantity of loose skin must opt for a tummy tuck that will help you get rid of loose skin.
Laser liposuction can help get rid of body fat that still remains after you've reached your targeted weight, but it is not a weight loss cure. This procedure, however, helps tighten the skin and coagulate tissue. Additionally, this laser workstation has intelligent delivery technologies that minimize the danger of overtreatment by enabling the surgeon to control the energy flow and monitor skin temperature. With this abdominal liposuction in NYC, men as well as women can safely and successfully achieve their body-sculpting goals. Its high-definition shaping capabilities offer great results for people who want six-pack abs and a chiseled appearance.
Say goodbye to your belly fat and hello to a new you.
To learn more about laser liposuction,
call us at 1-888-869-2762.
If you are seeking Smartlipo laser liposuction in NYC, find an AAAASF-accredited facility with plastic surgeons specialized in using Smartlipo Triplex technology. Plastic surgery specialists will evaluate your anatomical concerns and provide a personalized treatment plan to help achieve your body contouring goals.