One of those tricky spots where fat tends to gather quickly is the abdomen. It can be due to various factors such as genetics, getting older, pregnancy, weight gain, hormones, and even stress. The thing is, traditional weight loss methods often fail to tackle that stubborn belly fat. Abdominal liposuction in NYC could resolve this concern. It gets rid of that subcutaneous fat under your skin and tightens the skin on top of your abdominal muscles, leaving you with a flatter, more toned tummy. So, say goodbye to that stubborn belly fat and hello to a slimmer you.
Before going on to the recovery tips, let us consider what this procedure involves.
How Is Abdominal Liposuction in NYC Performed?
The procedure is performed using the minimally-invasive Smartlipo Triplex laser lipolysis device. This device utilizes an optimal blend of three laser wavelengths to liquefy the fat cells and tighten the skin simultaneously.
With the FDA-approved Smartlipo laser liposuction device, the treatment is performed as an outpatient procedure and completed in an hour, though this depends on individual considerations. There is less bleeding, swelling and bruising than in traditional liposuction. Patients experience only minimal scarring, pain and discomfort. The procedure is performed under local anesthesia and most patients return home on the same day. It reduces treatment time and patient downtime and offers faster healing and quick recovery. It is possible to speed up the recovery process if the patient takes extra care and follows the surgeon's instructions diligently.
Check out this infographic – It's got some really useful quick recovery tips to follow after liposuction.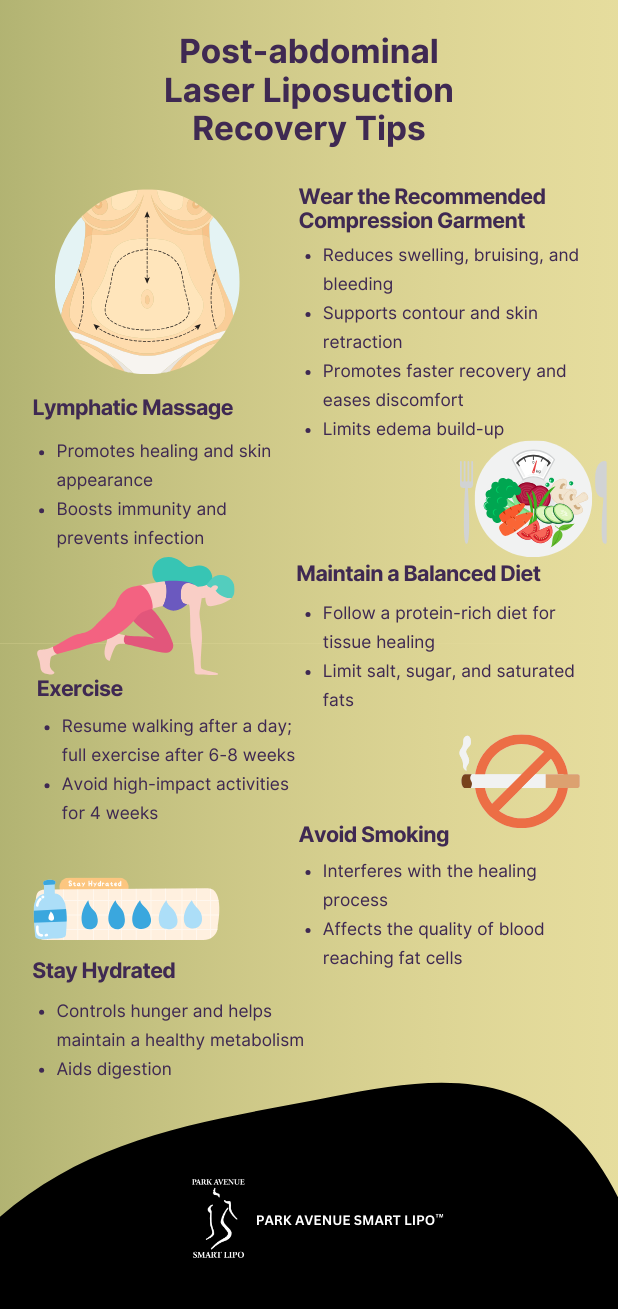 Follow These Tips for a Smooth and Quick Recovery
Wear the compression garment: Plastic surgeons usually recommend the use of a compression garment following liposuction, tummy tuck and breast reduction surgery, and other body contouring procedures. A compression garment is a close fitting elastic garment worn after a surgical procedure to reduce bleeding and swelling. Following stomach liposuction, the surgeon will usually recommend that a compression garment be worn once the bandages in the incision areas have been removed. The apparel will support the tissues, improve drainage and ease discomfort, promoting faster recovery.

The key benefits of using an elastic compression garment after liposuction are:

Limits the build-up of edema – the watery fluid that can collect in the cavities or tissues of the body. Wearing the garment during the initial recovery phase will help address this concern quicker
Reduces swelling and bruising that may be caused by walking following liposuction of the lower extremities
Helps in the retraction and shrinking of loose skin left behind after liposuction
Promotes fluid drainage and resorption
Reduces bleeding by applying pressure to the surgical sites
Supports contour

Get lymphatic massage: It's quite usual to experience minor bumps, lumps and swelling in the immediate post-op for a patient. This is because while liposuction removes stubborn fat cells, it may cause some disruption in the lymphatic channels and minor cellular injury, which will cause mild contour irregularity and swelling. This swelling usually improves in a week on its own, but the patient can heal even faster with the help of lymphatic massage. It can help small areas of fibrosis to resolve a bit more quickly, and also boost the patient's immunity and prevent infection. Massage will typically be performed toward the areas of maximum lymphatic drainage. It is advisable to discuss this option with our surgeon.
Maintain a healthy diet: It's important to maintain a healthy diet after abdominal liposuction. Experts recommend a protein-rich diet. Proteins will provide extra nourishment to promote faster tissue healing and quicker recovery. Increase intake of lean proteins in the diet such as seafood, skinless chicken breast, dry beans, peas, nuts, eggs, and seeds. Similarly, choosing a low sodium diet during the initial recovery period is also helpful, as high salt intake can interfere with blood flow and impair the healing process. After liposuction, eat a balanced diet and limit consumption of salts, sugars, and saturated fats.
Exercise: After liposuction, you can engage in light activities or walking when your body can tolerate it. Patients are instructed to refrain from heavy activities such as lifting of heavy weights and vigorous physical exercises for at least three to four weeks following the surgery to ensure smooth recovery. Make sure to follow your surgeon's advice regarding exercise.
Avoid smoking and drinking alcohol: Smoking and alcohol consumption can slow down the healing process. Nicotine use limits your blood flow, and this can prolong your healing process and put you at a higher risk of infection.
Stay hydrated: It is common to experience dehydration after the procedure, due to the loss of water from the body during surgery. It is crucial to maintain proper hydration to ensure faster recovery. Typically, a daily intake of 10-12 glasses of water is recommended. Avoid high-sodium drinks as they can contribute to dehydration.
Stick to your surgeon's instructions: Follow your surgeon's instructions strictly. Following the procedure, your surgeon may recommend wearing a compression garment, once the bandages in the incision areas have been removed. The compression garment will provide continued protection to the incisions and aid the healing process. The blood flow in the treated areas will be maintained when the blood vessels remain active due to the compression.
Keep the incision clean: Infection is a common risk after liposuction. Changing bandages frequently is the best way to keep the liposuction area clean. Keeping the area clean will prevent any type of infection from developing. Change the dressings and bandages regularly, and keep the incisions dry and clean.
What to Expect after Abdominal Liposuction?
To obtain the best results, you need to be an ideal candidate for the abdominal liposuction procedure. Ideal candidates have excess fat in the abdominal area, are close to their normal weight, have good skin elasticity and are healthy, without any underlying medical conditions.
Though the safety and efficacy of Smartlipo technology is well-established, prospective patients need to be well aware about the significance of proper postoperative care. As the procedure is performed under local anesthesia, most patients return home the same day. Minor swelling, which is quite normal after the procedure, will subside soon. However, it is possible to speed up the recovery process if the patient takes extra care and follows the plastic surgeon's instructions diligently. In short, planning well ahead for the post-operative period and following the plastic surgeon's instructions carefully can help patients easily overcome any discomfort and risk of complications associated with the procedure.
The success of an abdomen liposuction procedure depends on factors such as your age, gender, history of weight gain and weight loss, history of pregnancy, and the amount and location of abdominal fat. The plastic surgeon's experience and skill are also paramount for a successful procedure. So, if you are looking to have abdominal liposuction in NYC, find a reliable AAAASF-accredited plastic surgery facility that has plastic surgeons with extensive experience in performing the procedure.