Liposuction is designed to remove persistent fat deposits and reshape the body. This procedure effectively targets various areas of the body, including the knees, thighs, abdomen, upper arms, back, jowls, neck, and chin. If you are struggling with excess fat in specific body areas despite maintaining a regular exercise routine and a healthy diet, laser liposuction may be a viable solution.
This procedure is versatile, and suitable for delicate face areas and more substantial ones like the abdomen.
Whether you're considering laser liposuction surgery in Manhattan or have already scheduled your surgery, it's essential to understand what to expect before and after the procedure.
Check out the essential points to consider when considering laser liposuction surgery.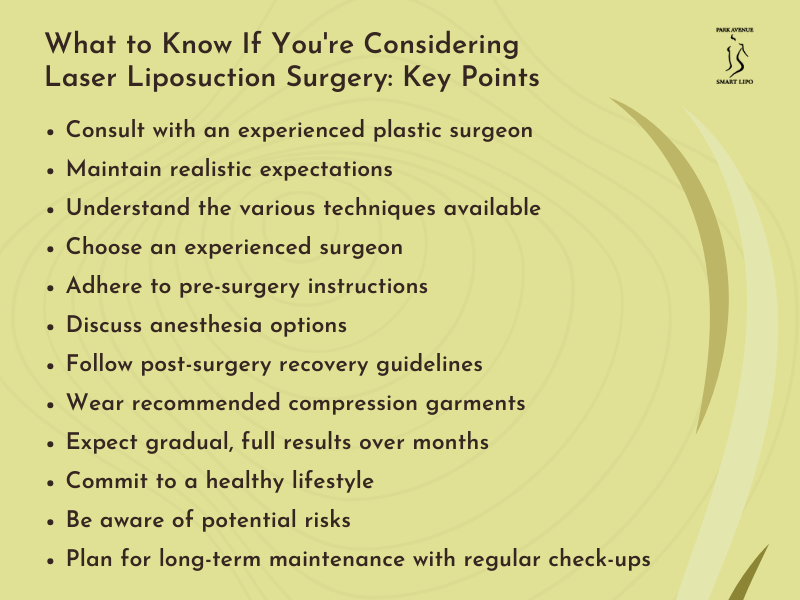 What to Expect Before and After Laser Liposuction Surgery in Manhattan
Before Liposuction:
Consultation: Meet with an experienced surgeon to discuss your goals, medical history, and determine if you are a suitable candidate for the procedure.
Medical Evaluation: Undergo a comprehensive medical evaluation, including blood tests and physical examination.
Preparation: Follow pre-surgery instructions, which may include fasting, discontinuing certain medications, and arranging for transportation on the day of the procedure.
Anesthesia: Choice between local or general anesthesia, discussed during the consultation.
Surgical Plan: Clear understanding of the surgical plan, including incision points and the extent of the procedure.
After Liposuction:
Recovery Period: You may experience some discomfort, swelling, and bruising immediately after the procedure. Wear compression garments as advised.
Rest: Plan to rest and avoid strenuous activities for a specified period as recommended by your surgeon.
Swelling and Bruising: Swelling and bruising are common but will gradually subside over several weeks.
Results: Noticeable improvements in body contour become apparent as swelling diminishes, typically within a few weeks to a few months.
Follow-up Appointments: Attend scheduled follow-up appointments with your surgeon to monitor your progress and address any concerns.
Maintaining Results: Maintain your results by following a healthy lifestyle, including a balanced diet and regular exercise.
Final Outcome: The final results become evident once your body fully heals, which can take several months.
Before and After Pictures of Smartlipo Triplex Laser Liposuction

Tired of trying diets and workouts to get that slim, toned body you always wanted?
Try Laser Liposuction!
Want to Know More About Liposuction?
Experts at Park Avenue Smart Lipo utilize the FDA-approved Smartlipo Triplex™ platform to remove localized pockets of fat and excess skin from various parts of your body. If you are interested in learning more about Smartlipo Triplex laser liposuction in NYC, then consult plastic surgeons at Park Avenue Smart Lipo. Our plastic surgeons provide the right guidance to help you make an informed decision.