The abdomen is a common area for fat accumulation. Diet and exercise usually don't work when it comes this belly fat. Abdominal liposuction in Manhattan, NYC removes excess fat and skin around the abdomen area and provides women with a slimmer, well-shaped abdomen. Plastic surgeons perform female abdomen laser liposuction using the minimally-invasive, laser-assisted Smartlipo Triplex lipolysis device. With this FDA approved workstation, the procedure can be performed on an outpatient basis. The device accommodates three laser wavelengths (1440nm, 1320 nm, and 1064 nm) to liquefy the fat cells and tighten the skin simultaneously safely and effectively. Its three intelligent delivery systems SmartSense™, ThermaView™ and ThermaGuide™, deliver the laser energy in the right proportion for precise body contouring and optimal skin tightening, while preventing overtreatment. A key advantage of this procedure is that the laser coagulates the small blood vessels to minimize bleeding.
To enjoy the benefits of female abdomen liposuction, you need to be an ideal candidate for the procedure. The right candidate –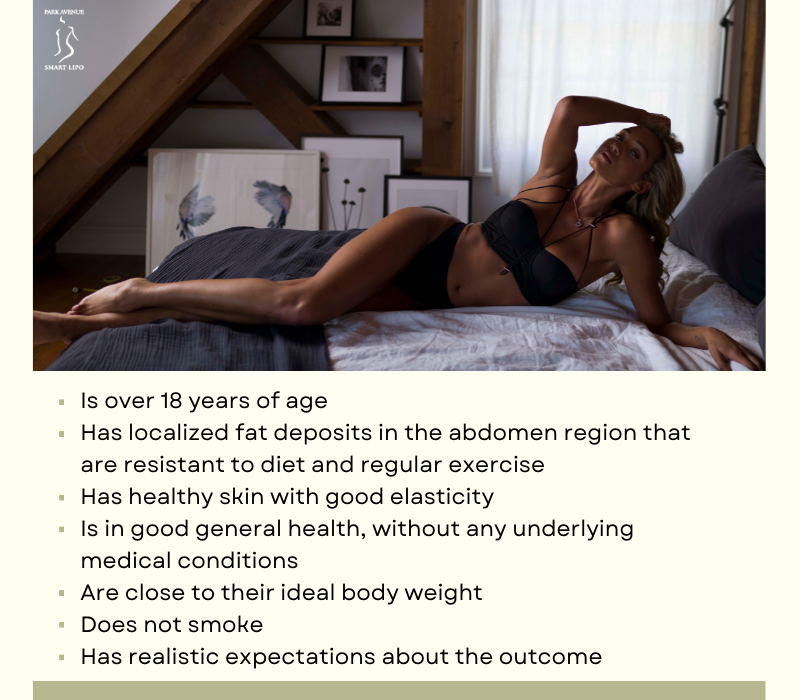 The procedure begins surgeon marking the site and numbing it with local anesthesia. The small cannula of the device is then inserted under the skin through a small incision and laser energy is delivered to target the unwanted fat cells, causing them to liquefy. This liquefied fat is then suctioned out. Unlike traditional liposuction surgery, this procedure involves only minimal bleeding, swelling, bruising, scarring, pain and discomfort. If you are considering abdomen liposuction for women in Manhattan, NYC, consider choosing an AAAASF-accredited plastic surgery facility that provides the service of skilled, well-trained plastic surgeons.