Love handles or flanks refer to those extra bulges of fat that extends outward from the hips. A common aesthetic problem among men, fat accumulation around the hips and the abdominal area is caused by factors such as aging, weight gain, heredity and hormonal changes and difficult to eliminate even with rigorous diet and exercise. Male love handles liposuction in NYC is a perfect option to address this concern. Performed using the FDA-approved Smartlipo laser-assisted workstation, this minimally-invasive procedure liquefies the unwanted fat, allowing it to be gently suctioned off without affecting the surrounding tissues. Combining love handles liposuction with abdominal liposuction can improve outcomes.
The key benefits of Smartlipo male love handles liposuction in NYC are minimal scarring, bleeding and swelling, speedy recovery and long-lasting results. As it is an outpatient procedure performed under local anesthesia, downtime is minimal and patients can return home the same day.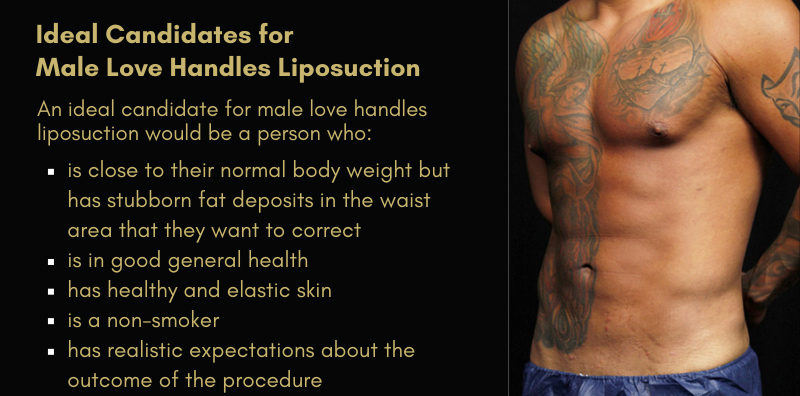 Liposuction is not recommended for individuals with medical conditions such as heart disease, circulation problems or someone who has undergone abdominal surgery recently in the area of love handles.
You can undergo male love handles liposuction in NYC in an AAAASF-accredited plastic surgery practice. Leading practices will have surgeons who are experts in performing this procedure using the Smartlipo Triplex device. An expert will perform a complete evaluation during your consultation and ask you relevant questions to determine if you are a good candidate for the treatment. While an expert can help you achieve excellent results, keep in mind that a healthy lifestyle is essential to maintain them.