Flabby upper arms or batwings can impact your overall appearance. Stubborn fat in the arms is extremely difficult to resolve with just diet and exercise. Genetics, natural aging, gravity and lack of exercise are the key factors that cause fat to accumulate in the upper arms. Upper arm liposuction in Manhattan, New York City is an ideal option to address upper arm fat. The procedure is performed using the FDA-approved Smartlipo Triplex workstation.
This laser workstation combines three laser wavelengths (1064nm, 1320nm and 1440nm) to liquefy excess fat prior to extraction, coagulate the tissues and tighten loose skin. Only a small incision is required to insert its small cannula under the skin. The Smartlipo system also features intelligent delivery systems that monitor skin temperature and regulate the flow of energy accordingly.
Reasons Why Smartlipo in NYC Is Ideal to Treat Upper Arm Fat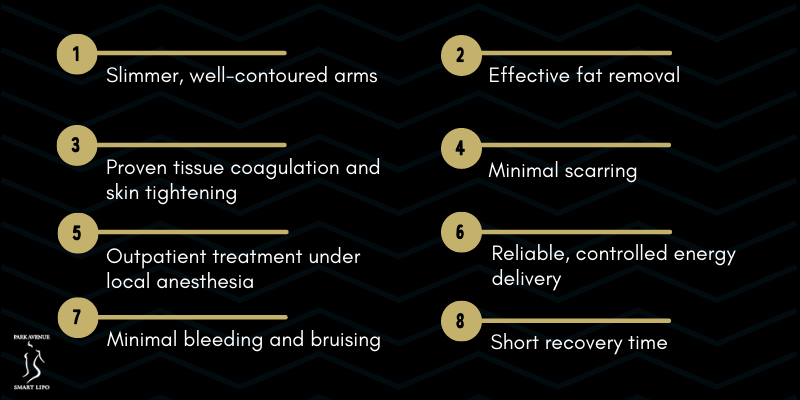 Once the procedure is complete, most patients return to normal activities within a day or two. Final results will usually become visible in six months or after the body has completely healed. This procedure offers the dual benefits of fat removal and skin tightening.
Many plastic surgery practices offer arm liposuction in Manhattan, NYC. Make sure you choose an AAAASF-accredited practice that has liposuction surgeons who have extensive experience in utilizing Smartlipo. An expert will evaluate your concerns and provide customized treatment to help you achieve your aesthetic goals.