Smartlipo Laser Liposuction to Improve Contour in Multiple Areas
Park Avenue Smart Lipo™, an AAAASF-accredited plastic surgery practice located in New York City, is dedicated exclusively to providing SmartLipo Triplex laser liposuction treatment. Smartlipo Triplex in NYC is an ideal option to address stubborn fat deposits that refuse to budge despite rigorous dieting and strenuous exercise. The procedure helps men and women achieve their body contouring goals safely and effectively.
Our plastic surgeons in NYC, Dr. Spero J Theodorou and Dr. Christopher T Chia, were intimately involved in the research and development process for Smartlipo Triplex, and perform more than 1000 procedures every year. As a Cynosure-certified training center, we train other physicians to perform Smartlipo liposuction in New York.
SmartLipo Triplex for Superior Body Sculpting Outcomes
With more than 45 clinical studies and over a decade of clinical success, Cynosure's Smartlipo Triplex workstation has remained the leader in laser lipolysis.
Smartlipo Triplex NYC is a minimally invasive procedure performed on an outpatient basis under local anesthesia. The treatment effectively addresses localized pockets of fat in various areas such as abdomen, thighs, buttocks, legs, arms, face and neck.
The innovative FDA-approved Smartlipo workstation features three unique wavelengths (1440, 1064 and 1320 nm) designed to effectively address your patient's body contouring needs. These laser wavelengths can be used in single or blended mode using Smartlipo's MultiPlex™ technology:
Blending the 1064 nm and 1440 nm effortlessly disrupts fatty tissue and reduces patient downtime.
Blending 1064 nm and 1320 nm promotes tissue tightening.
The system's intelligent delivery systems provide reliable, controlled energy delivery to prevent overtreatment.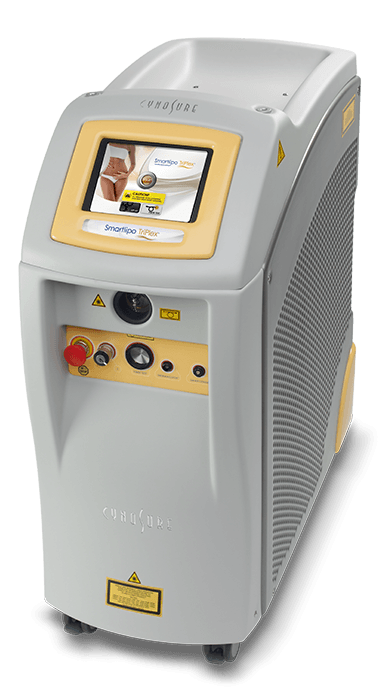 Smartlipo Liposuction for High-Def Body Sculpting
We also provide Smartlipo Triplex laser liposuction in NYC for high-def body sculpting. Our surgeons provide abdominal laser etching (six-pack) using the revolutionary Smartlipo device.
Benefits of SmartLipo Triplex Laser Liposuction in Manhattan
Smartlipo in our Manhattan plastic surgery facility offers several benefits:
Effective fat removal and skin tightening
Superior body contouring results
Requires only local anesthesia
Substantially less bleeding, bruising and swelling than traditional liposuction
Short downtime and recovery time
Performed on an outpatient basis
See Real Results Achieved by Liposuction Patients
We also provide fat transfer procedures for eligible candidates. Unwanted fat removed during your liposuction treatment is transferred to other areas of your body that need volume.
To learn more about Smartlipo Triplex Laser Liposuction in Manhattan or assess your candidature for the treatment, schedule an appointment at our facility. Call at 1888-8-NYCSMARTLIPO or write to info@parkavenuesmartlipo.com.