A graceful, slender neck is regarded as a sign of beauty. However, various factors like genetics, hormonal disorders, or lifestyle changes can result in the accumulation of stubborn fat and the appearance of a double chin. When it comes to addressing these concerns, exercise and diet often fail to deliver the desired results. Female neck liposuction in Manhattan is an effective way to get rid of fat in the neck and chin area. The procedure can improve the female neck profile, restore definition to the face, and help create a softer and more youthful facial appearance.
Performed using FDA approved Smartlipo Triplex technology, female neck laser liposuction in Manhattan involves using laser energy to effectively eliminate excess fatty tissue and tighten the skin. The Smartlipo device comes with three separate laser wavelengths (1440, 1064 and 1320 nm) that work to liquefy the fat so that it can be suctioned out gently, while leaving the surrounding tissues unaffected. By precisely targeting excess fat deposits in the neck and chin area, this technique results in a more defined, sculpted jawline and neck that improves facial balance.
Benefits of Female Neck Liposuction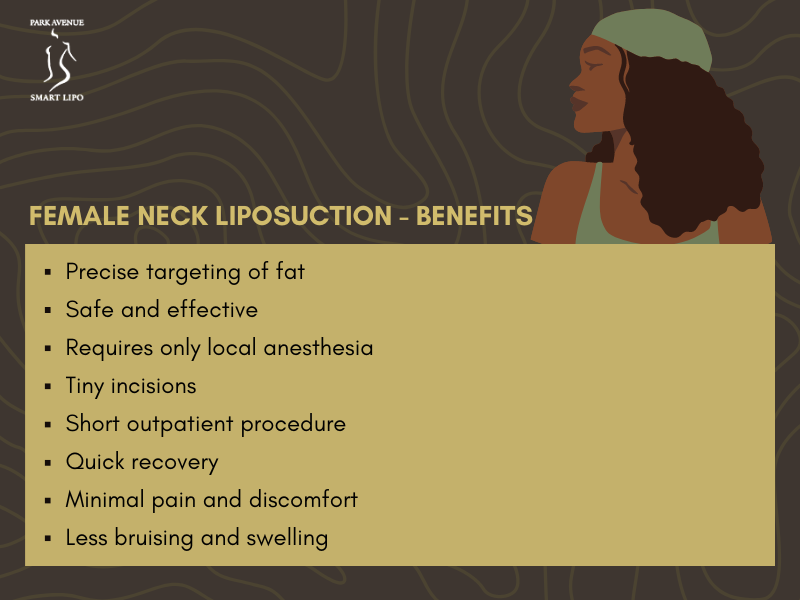 Healthy women who have stubborn fat pockets under the chin and in the neck area are usually considered good candidates for the neck laser liposuction procedure. It is important to note that individuals with minimal skin laxity tend to achieve the best results.
To address significant skin laxity, skilled surgeons may recommend combining neck liposuction with a neck lift or facelift. Consulting with an experienced plastic surgeon in Manhattan is essential to determine your candidacy for the treatment and, when accepted, achieve optimal results.
Reveal a more youthful you!
Inquire about female neck liposuction in Manhattan now!
Schedule your consultation with our plastic surgeons at 212-265-2724 | 1-888-869-2762!