Having a toned, well-shaped posterior can significantly enhance your overall appearance and boost your self-confidence. However, for many women, fat tends to build up in the buttocks due to factors like pregnancy, aging, hormonal imbalances, obesity, and slow metabolism. Even strict diet and rigorous exercise cannot resolve this unwanted fat. Female buttocks liposuction in NYC is an ideal option to eliminate the stubborn fat and achieve a toned, well-shaped posterior.
Though conventional liposuction surgery can remove stubborn fat that is resistant to diet and exercise, the procedure is invasive and involves a long recovery time. Skilled NYC plastic surgeons perform female buttock liposuction using the minimally-invasive FDA-approved Smartlipo Triplex workstation. The treatment involves using laser energy to melt and remove the excess fat, tighten the skin, and reshape the area.
Key Benefits of Smartlipo Laser Female Buttocks Liposuction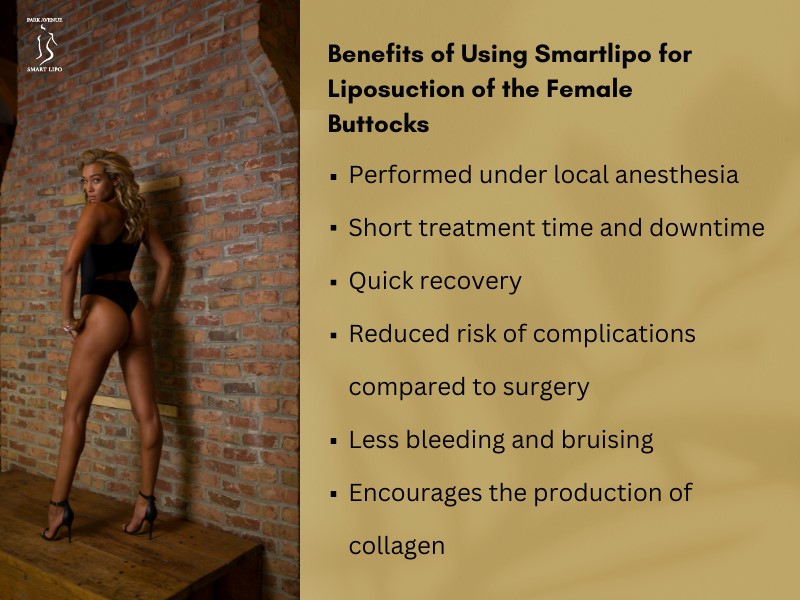 Suitable candidates for female buttock liposuction in NYC are women with overly large buttocks and are willing to undergo plastic surgery to address this concern. Good candidates are healthy, have firm and elastic skin, and realistic expectations. An experienced plastic surgeon will evaluate you thoroughly to make sure you are a suitable candidate for laser liposuction.
Following the procedure, most patients get back to normal activities within 1 or 2 days and engage in low-impact exercise after 3 to 5 days. Strenuous exercise should be avoided for at least a month or till recovery is complete. Adhering to your surgeon's post-operative instructions is crucial to reduce recovery time and minimize risk of complications.
If you are considering female buttock liposuction in NYC, choosing a reputable AAAASF-accredited practice is important for safe treatment and a comfortable surgical experience. Such practices offer the services of plastic surgeons skilled in performing Smartlipo laser liposuction.
Get shapely buttocks in time for summer!
Call 1-888-869-2762 to schedule your consultation for buttock liposuction in NYC.