Whether it's enhancing muscle contour, eliminating excess fat, or achieving an overall balanced look, a wide array of body sculpting options provided in New York City plastic surgery facilities can help you meet your aesthetic goals. Aesthetic body procedures include various surgical and non-surgical treatments aimed at enhancing the body's aesthetic appeal. For instance, if you're looking to enhance your physique, consider options such as liposuction to target stubborn fat pockets, creating a more streamlined silhouette. For those seeking a sculpted midsection, a tummy tuck can tighten abdominal muscles and remove excess skin, revealing a toned and firm core. Non-surgical treatments provide effective fat reduction without downtime, while advanced techniques such as BodyTite and FaceTite can tighten and rejuvenate the skin providing a youthful glow.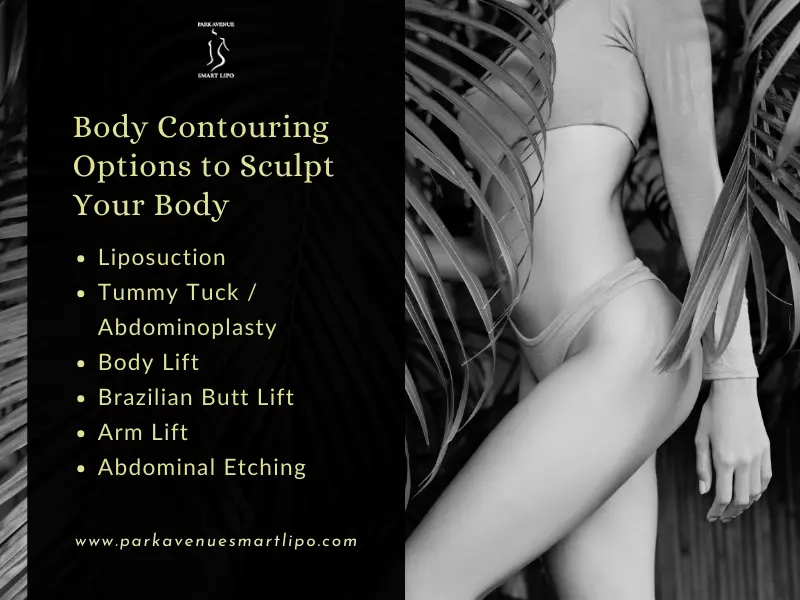 Body Sculpting Options in New York City
Liposuction – This procedure helps remove stubborn fat from your chin, abdomen, hips, thighs, upper arms, buttocks, back, knees, jowls, and neck, using minimally invasive, energy-assisted technologies.
Tummy Tuck / Abdominoplasty – Tummy tuck procedure can be done using diverse approaches such as – Liposuction-only abdominoplasty, Limited abdominoplasty, Complete abdominoplasty, and Brazilian tummy tuck.
Body Lift – Both upper and lower body lift surgeries can be performed to remove unwanted tissue and skin. The procedure aims at improving the overall harmony in your physical appearance and restoring self-confidence.
Brazilian Butt Lift – Brazilian butt lift surgery helps women achieve rounder, fuller, and firmer buttocks using their own fat removed from areas where it is abundant. The procedure can improve overall body balance and proportion.
Arm Lift – The excess skin and fat between the underarm and elbow can be removed with advanced arm lift procedures.
Abdominal Etching – This minimally invasive procedure removes superficial fat, enhances the underlying musculature, and tightens the skin to provide sleek, well-defined abs.
Fortunately, modern advancements in body sculpting in New York City can help you achieve your dream body. Whether you're seeking to tone, tighten, or enhance specific areas, professional plastic surgery facilities provide an array of cutting-edge body sculpting options. Laser liposuction surgery provided in Manhattan plastic surgery facilities is one such aesthetic procedure you could consider.
We provide customized body sculpting solutions designed to help you achieve your aesthetic goals!
To schedule your consultation, call 212-265-2724 | 1-888-869-2762!