Undergoing plastic surgery is a transformative experience. Park Avenue Smart Lipo™ is the premier destination for men and women seeking plastic surgery in Manhattan to enhance their appearance. With our team of highly skilled plastic surgeons and state-of-the-art facilities, we are dedicated to helping you achieve the best version of yourself. Whether you're considering facial rejuvenation or body contouring, our surgeons will develop a personalized treatment plan to help you achieve natural-looking results.
Park Avenue Smart Lipo™ provides minimally-invasive body contouring procedures using the laser-assisted SmartLipo Triplex™ workstation. Our skilled surgeons have extensive experience using the transformative capabilities of this FDA-approved liposuction modality.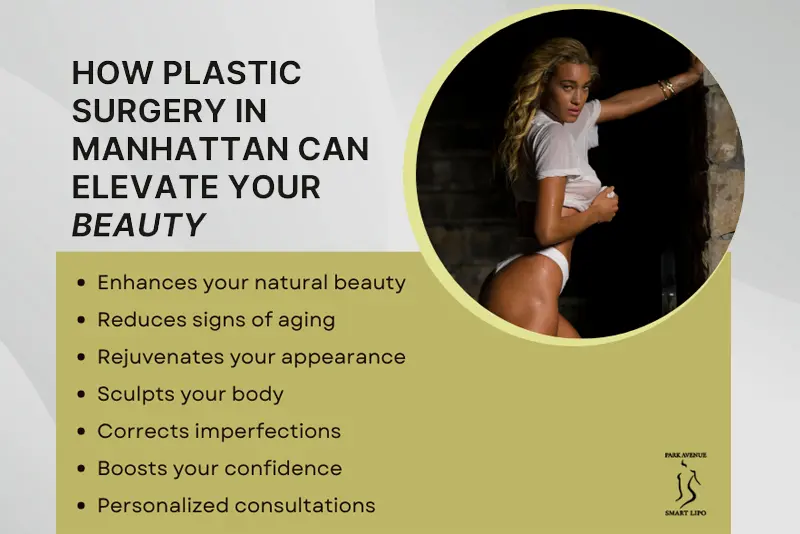 How Plastic Surgery at Park Avenue Smart Lipo™ Can Elevate Your Beauty
Let's explore the transformative power of plastic surgery in Manhattan and how it can elevate your beauty.
Enhances your features:
Plastic surgery offers a range of procedures to enhance your facial and body features. Whether you're seeking a rejuvenated face, sculpted body contours, or a more proportionate figure, our experienced surgeons will work closely with you to understand your goals and create a customized treatment plan. We offer a comprehensive array of liposuction treatments to improve various body areas.
Natural-looking results:
At Park Avenue Smart Lipo™, we prioritize delivering natural-looking results. Our surgeons are renowned for their artistry and precision, ensuring that your plastic surgery outcomes appear harmonious with your overall appearance. Treatments are focused on enhancing your natural beauty. Our commitment to excellence and attention to detail sets us apart as trusted providers of plastic surgery in Manhattan.
Advanced techniques and technology:
We utilize advanced techniques and state-of-the-art technology. Our practice is dedicated to providing liposuction treatments utilizing SmartLipo Triplex™, the innovative laser liposuction system that provides precise body sculpting and superior skin tightening. This minimally invasive procedure comes with quick recovery times and minimal scarring, resulting in smoother outcomes.
Expertise and compassionate care:
When you choose Park Avenue Smart Lipo™ for your plastic surgery journey, you can expect expertise and compassionate care from start to finish. Our skilled plastic surgeons will take the time to listen to your concerns, answer your questions, and guide you through the entire process, ensuring your comfort and peace of mind.
Experience the life-changing benefits of plastic surgery at Park Avenue Smart Lipo™, the leading NYC liposuction center. Our AAAASF-accredited center's commitment to excellence, natural-looking results, and advanced techniques has made it the premier destination for plastic surgery in Manhattan.
Ready to take the first step towards elevating your beauty with plastic surgery in Manhattan?
Schedule your consultation – call 212-265-2724 | 1-888-869-2762 today!