One of the most popular body contouring procedure, liposuction in New York City removes excess fat deposits from different body areas – such as arms, abdomen, thighs, knees, hips and buttocks. This procedure is a practical option when strenuous diet and exercise fail to provide the desired results. Apart from conventional surgical treatments to treat excess fat, reliable plastic surgery practices provide minimally-invasive liposuction using Smartlipo. However, regardless of the technique used – invasive or minimally-invasive – expert surgeons give their patients specific instructions to follow to promote fast and smooth recovery. One of the important things recommended by surgeons is wearing a compression garment post-op.
Many prospective patients ask why it is necessary to wear a compression garment. The answer is that wearing the compression garment eases all phases of the recovery. The benefits of wearing compression garments post liposuction include: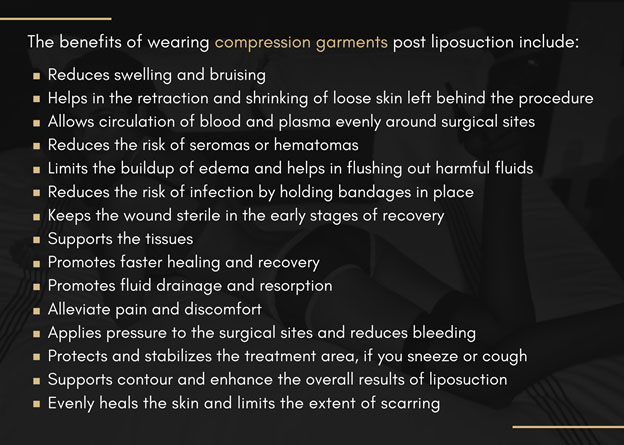 All plastic surgery treatments, including laser liposuction in New York City, come with a healing period. Patients are instructed by their surgeons to use a compression garment during recovery to help the body to adapt to its new shape. Specially designed to promote healing and improve results, compression garments should be worn for a certain time span. It is found that patients who wear the compression garment for recommended time period experience a lower risk of post-op complications and also tend to be happier with their results.