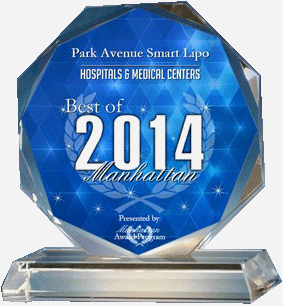 The Manhattan Award Program has chosen Park Avenue Smart Lipo™ as the winner in the Hospitals & Medical Centers category for the year 2014. This annual awards program honors the accomplishments and achievements of local businesses throughout the New York City area.
A leading plastic surgery facility in New York City, Park Avenue Smart Lipo™ offers a range of advanced body contouring procedures utilizing the FDA-approved Smartlipo Triplex body contouring workstation. The award is in recognition of the exceptional marketing success that this plastic surgery center achieved in its local community and business category. The Manhattan Award Program recognizes the small business community's contributions to the U.S. economy.
Park Avenue Smart Lipo™ is AAAASF-accredited, Cynosure certified, and is one of Cynosure's reputable Smartlipo training centers in New York City. The focus here is on providing minimally invasive, safe and efficient aesthetic procedures that are customized according to the requirements of each patient. Since the plastic surgeons plan the cosmetic surgery keeping the patient's aesthetic goals in mind, the results achieved are also optimal. Dr. Spero Theodorou and Dr. Christopher T. Chia, the plastic surgeons at Park Avenue Smart Lipo™ are trained and experienced in providing laser assisted body contouring procedures. Patients are encouraged to maintain realistic expectations and given all the required information regarding the chosen procedure so that each procedure is successful.
To decide Park Avenue Smart Lipo™ as the winner in its category, the Manhattan Award Program gathered and analyzed information from a number of sources. Quality is the criterion for the award determination rather than quantity. The required data is gathered both internally by the Manhattan Award Program and from third parties. Park Avenue Smart Lipo™ has demonstrated their ability to use their best practices and implemented programs to generate competitive advantages and long-term value, which has been recognized by this prestigious award program. Moreover, businesses such as this contribute towards making the Manhattan area a great place to live, work and play. Park Avenue Smart Lipo™, with its dedicated plastic surgeons and state-of-the-art laser body sculpting equipment, continues to help men and women achieve their aesthetic goals and thereby enhance their overall self esteem, while also adding to the positive image of small business through service to their customers and community.