Fat accumulates easily in the abdominal region. Many men find that they cannot achieve the trimmer, sleek midsection they want even with strenuous exercise and diets. AAAASF-accredited plastic surgery centers offer male abdomen liposuction in Manhattan to address this concern safely and effectively.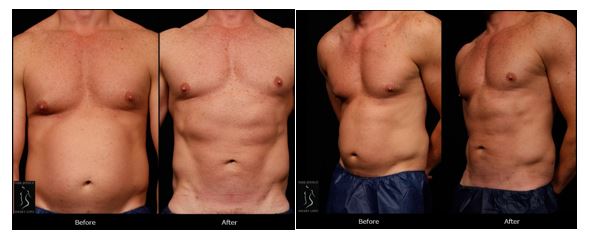 Plastic surgeons in Manhattan perform abdomen liposuction using the revolutionary laser assisted SmartLipo Triplex device. This device features three different wavelengths (1064nm, 1440nm and 1320nm) for liquifying excess fat, coagulating tissue and tightening the skin. The small cannula with the laser fibers is inserted into the treatment site via small incision and laser energy is delivered to target the unwanted fat and melt it so that it can be easily removed. This minimally invasive outpatient procedure is performed under local anesthesia.
Though this procedure is safe and provides optimal results with less discomfort and downtime, proper aftercare is crucial to avoid complications, recover smoothly, and achieve the best results. Here are some tips for recovery after ab liposuction.
Want to achieve a sculpted, toned, and defined abdomen!
Experience the transformation of abdomen liposuction!
To schedule your appointment, Call 212-265-2724 | 1-888-869-2762
Male Abdomen Liposuction Recovery Tips
Getting proper rest is key for faster recovery. Prepare your bed and have enough pillows to make yourself comfortable. At the time of your consultation, your surgeon will advise you on how much rest you need to take after the procedure.
Take the medications that your surgeon recommends for reducing pain and swelling. Inform your surgeon about the medicines you take and any allergies you have. This will reduce the risk of complications. Avoid blood thinning medicines like aspirin at least two- to three weeks before the procedure as they can increase chances of bleeding.
Use the compression garment
Plastic surgeons recommend wearing a compression garment after the male abdomen liposuction procedure. This will help reduce swelling and bruising faster, maintain the pressure on the liposuction area, stop bleeding and contours the site. Patients usually wear the garment for a couple of weeks after the procedure.
On the day after the procedure, you need to take complete bed rest. However, on the following days, you can start light walking based on your surgeon's advice. This will help improve blood flow or circulation. Avoid strenuous exercises for a couple of weeks after the procedure.
Take proper care of the site  
Showering is only permitted 48 hours after the treatment. Keep the incision site clean. An unclean incision site can cause complications that might affect the healing procedure as well as your health.
Follow a healthy lifestyle
A healthy lifestyle keeps your body prepared to face trauma. It will help your wounds to heal faster. Avoid smoking and drinking and follow a healthy diet and exercise regimen to maintain your results.
Swelling, bruising and redness on the skin are common soon after the procedure and will subside within a few days. If you notice any unusual swelling or bleeding, contact your surgeon immediately.
Male abdomen liposuction in Manhattan is an ideal solution for eliminating excess fat from the abdominal area. If you are planning to undergo male abdomen liposuction, consult an experienced plastic surgeon.
Unleash Your Confidence with Male Abdomen Liposuction!
To schedule a consultation and take the first step forward send an email to info@parkavenuesmartlipo.com