Often fat that accumulates in the abdominal region is resistant to diet and exercise. Male abdomen liposuction in Manhattan is an effective way to get rid of excess fat from the abdominal area. Skilled plastic surgeons perform abdomen liposuction using the FDA approved, laser assisted Smartlipo Triplex device. This device features three different wavelengths (1064nm, 1440nm and 1320nm) for liquefying excess fat, coagulating tissue and tightening the skin. Performed under local anesthesia, the procedure involves inserting a small laser-assisted cannula into the treatment site via small incisions and delivering laser energy to target the unwanted fat and melt it so that it can be easily removed.
While the procedure can help you achieve a leaner, more toned appearance, it's important to take care of yourself during the recovery period to ensure a successful outcome.
Male Abdomen Liposuction Recovery Tips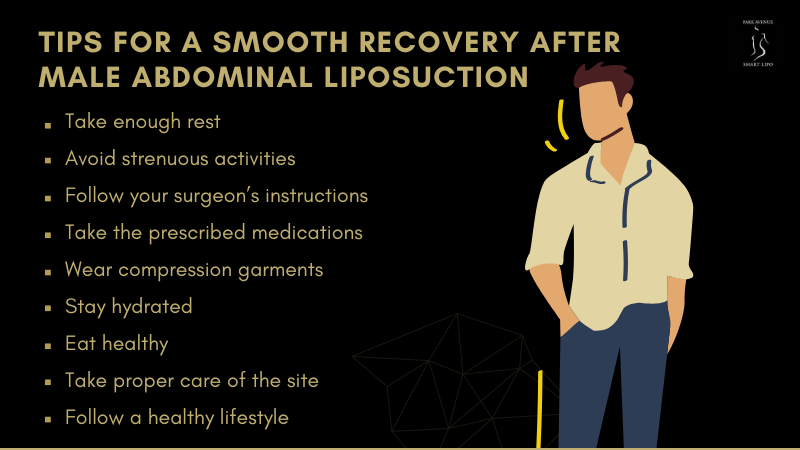 Swelling, bruising and redness on the skin are common soon after the procedure and will subside in a few days. If you observe any abnormal swelling or bleeding, get in touch with your surgeon immediately.
If you are planning to have male abdomen liposuction in Manhattan, make sure to schedule your consultation with an experienced plastic surgeon. Though the procedure is safe and provides great results with less discomfort and downtime, proper aftercare is crucial to avoid complications, recover smoothly, and achieve the best results. Following your surgeon's instructions will make recovery smoother and help you achieve optimal results.
Struggling to achieve a lean and toned appearance through diet and exercise alone?
Consider male abdomen liposuction at Park Avenue Smart Lipo™!
Schedule your consultation at 212-265-2724 | 1-888-869-2762!